On March 25, 2012, the third and last day of AKB48's Saitama Super Arena concert, Acchan surprised everyone by saying that she's decided to graduate from the group. Here's a transcript of how she announced it to the fans. I also included the follow-up allocution that Takamina gave right after.
After the third encore song, Acchan steps up announces that she has something to say. Fans are surprised and shocked, probably knowing that something big is about to happen. You can hear some fans saying "No way, she's not about to stop is she?"
When I was 14 years old, I passed the AKB audition. I then became one of the original members. Passing that audition was for me, the first big decision I took in my life. And today, here and now… let me take my second big decision.
At this point she pauses, choked up by emotion. Fans cheer wildly, encouraging Acchan. Takamina puts her hand on her shoulder, trying to comfort her. But Takamina herself gets taken over by emotions and starts crying.
I, Maeda Atsuko, will graduate from AKB48. For a long time, my emotions have always had extreme ups and downs and I have caused a lot of trouble to the members. And for all you fans too, I have often caused you to worry. Even so, I've done my best during these six and a half years.

During the first day of this concert, there was the announcement about Tokyo Dome. The dream that I had since I was 14 years old and that we all shared is finally going to come true. I am really touched. And at the same time, I once again realize that I have to move forward to face the dreams that I have as a 20 year old.

To be honest, I'm filled with anxiety. I don't know how this will turn out. But doing this now, and for the sake of many of my juniors too, I have to graduate, I have to walk [down my own path]. But, the details [about my graduation] haven't been decided yet. It also means I'm not stopping today right away. That's why when they will have been decided, I would like to once again convey them to you. Sorry for taking up time like this. Thank you very much.
The crowd cheers and applauses. They then start chanting "Acchan, Acchan." After this, Takamina says the following:
Since it's a sudden announcement, I'm sure that you must all be surprised. Members were also in the dark about this. I've always been watching by her side. I've seen a lot. I've seen her carry [the team's] heavy burden, I've seen her cry, I've seen her smile, I've seen all of it.

Last year, when I went to eat with Atsuko… she frankly told me that she was thinking about what she announced today. That's why I'd truly like you to understand that this is not something Atsuko decided at the spur of the moment. She thought about it a lot on her own. This is the decision she has taken after all of her reflections.

[…]

Even if being in AKB48 is a dream, it is not the end goal. This is the same for all members. [Atsuko has] carried a heavy, heavy burden on her back. Even though the details haven't decided yet, [when the time comes] let's all send her off. Everyone's warm voices will surely be able to help send her off. Your warm feelings will become something she'll cherish in her life. With all our might, [indiscernible]. That's right, since everyone is here, it will be fine.

I really really don't want her to graduate! But, we have no right to stop her… So, let's all send her off together. Everyone, please help send her off!
The translation for Acchan's part was based off of this post from @AKB48Journal that I've edited and added in parts from the video/audio recordings. But a transcript really can't convey all the emotions that you can feel by listening to it. So here is a video of Acchan's graduation announcement and an audio clip of Takamina's follow-up.
Acchan's announcement starts @1:40 in the video below.

Takamina's speech: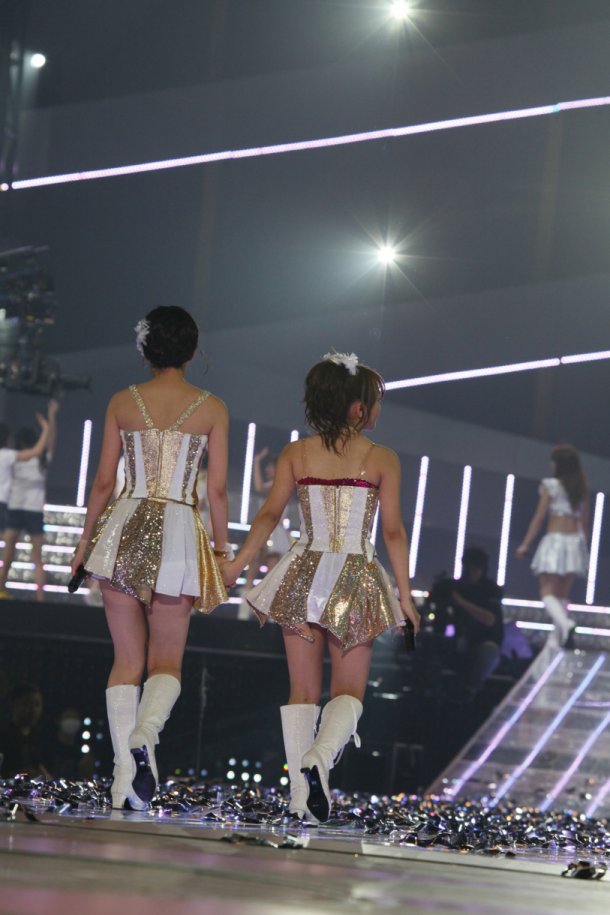 卒業とは出口じゃなく、入り口だろう。